The Performance Characteristics of Jaw Cement Crusher
Mar 20 2015
Rocks not only can be used for construction and refining metals, but also can be used as pigment and so on. Before these applications, rocks should be crushed into small size by jaw cement crusher at first. Jaw cement crusher not only provides a convenient life for people, but also improves the working efficiency. This article will introduce you the performance characteristics of jaw cement crusher in the following parts.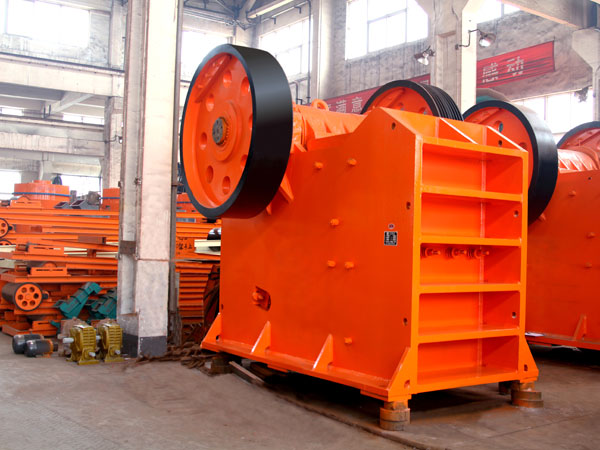 Simple structure and easy maintenance and repair
Jaw cement crusher is mainly composed of two parts the movable jaw and fixed jaw, with no other accessories, so its maintenance and repair are very convenient. Jaw cement crusher is primarily a model animal's two jaws to complete material crushing job. When raw materials get stuck between the two jaws, they are easily cleaned.
Large crushing ratio and uniform products granularity
Jaw cement crusher can crush all kinds of ores with compressive strength not more than 320MPa. Its inlet size is big, which promises jaw cement crusher to crush big size materials. Its maximum crushing size is 1000*1200mm. The crushing ratio before crushing and after crushing is big. Its yield is high. Product granularity is uniform. And most of its products are cubes. All these characteristics of jaw cement crusher can meet the requirement of customers.
Unique technology advantages
Jaw cement crusher has unique technological advantages for ore fragmentation. The two-way mesh corner of the crushing chamber, short bracket on a big corner, and small transmission angle and offset improve the performance and reliability of the equipment. Cement jaw crusher has many different specifications, and different specifications of jaw cement crushers have different inlet sizes, the maximum feed particle sizes and discharge particle sizes. The crushing cavity of cement jaw crusher is deep and has no dead corner, improving the feeding capability and yield. Gasket type discharge adjustment device is convenient to adjust and has a big adjustment range, increasing the flexibility of the equipment, so it can meet the needs of different users.
Wide application
Jaw cement crusher is widely used in mining, metallurgical, building material, highway, railway, water conservancy and other industries. Besides rocks, jaw cement crusher is able to crusher various ores with Humaud's hardness not beyond 7 level, like basalt, page rock, diabase, sand rock, iron ore, copper ore, river Pebble, wind fossil, bricks, slag, etc.